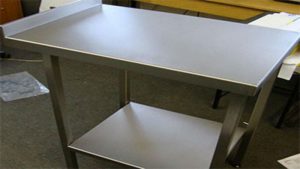 Tips for Welding Stainless Steel
Do you need tank repairs for a food processing business? Maybe your company is planning on expanding production and adding a new conveyor system. You may need custom stainless steel fabrication and welding services. If the project is not too large, most companies can weld stainless steel with the right equipment and knowledge. Here are some helpful tips for doing the job right, the first time.
Understanding the Differences
Many people make the mistake of assuming stainless steel and standard carbon steel use the same fabrication methods, but this is not the case. In fact, you need to consider the different types of stainless steel commonly used in custom stainless steel fabrication. Here are the three most common types:
Austenitic – most commonly used for fabricating and has low-carbon with high nickel and chromium content. It is non-magnetic.
Martensitic – often used in hard facing applications and can have high or low-carbon content.
Ferritic (iron) – Contains high amounts of chromium with low-carbon content. Used for automotive exhaust components, industrial construction, and equipment.
Austenitic (300 series) Welding
You don't have to heat the metal before welding 300 series stainless steel. However, 350 F is the limit for heating. Welds commonly crack with this metal, so use low heat and make convex (not concave or flat) welds.
Martensitic Welding
Martensitic stainless steel is not usually used to join metals together. It's mostly used for overlays. Accurate preheating is essential to the process.
Ferritic Welding
Single pass methods are commonly used because ferritic stainless steel (types 439 and 409) comes in 1/4 inch thicknesses and less. Low heat methods are essential also.
When you have a lot of custom stainless steel fabrication to do, consider hiring a company with years of experience in the industry. This assures the best welding and long-lasting results.
You may also Like